Description
Giant Inflatable Snow Globe
Rent a giant snow globe for your holiday event. The Giant snow globe has a separate entrance that stays inflated while you and your guests enter and exit the globe. When you enter the inflatable dome,  the air blowing in is blocked by the large winter themed curtain so your photos will be easier to capture. We are able to fill the dome with fake snow for your event. This is not a bounce house however, it is a must have for a fun holiday photo. The inflated floor is safe for all ages. This show ball can fit up to 12 people easily. It is perfect for group photos.
Price: $695 including 2 attendants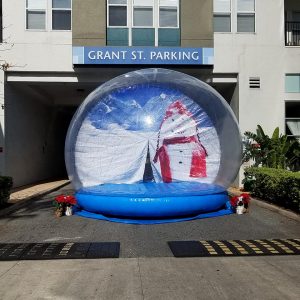 Giant Snow Globe (Medium)
Price: $350 including 1 attendant
Our 2nd dome is great  for those who are budget conscious and still want a nice show piece. This how ball can easily hold 6 to 7 people and comes with an experienced staff member to help guests in and out of the dome for photos. This show ball comes with floor covering and flowers and has a 8 ft diameter bottom and has a 12 ft bubble
Giant Snow Globe (Small)
Price: $250 including 1 attendant
Our last show ball is for customers that are working with a small space. The dome can hold 4 people and is 6 feet in diameter and has a 10 ft bubble. An experienced staff member is included to help guests in and out of the bubble. Snow bubbles come with floor covering, flowers and fencing.